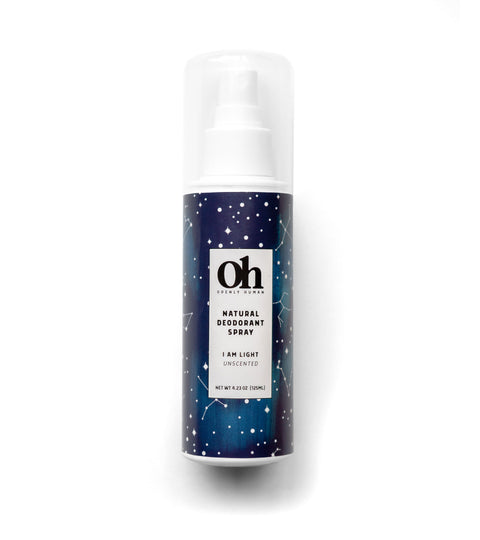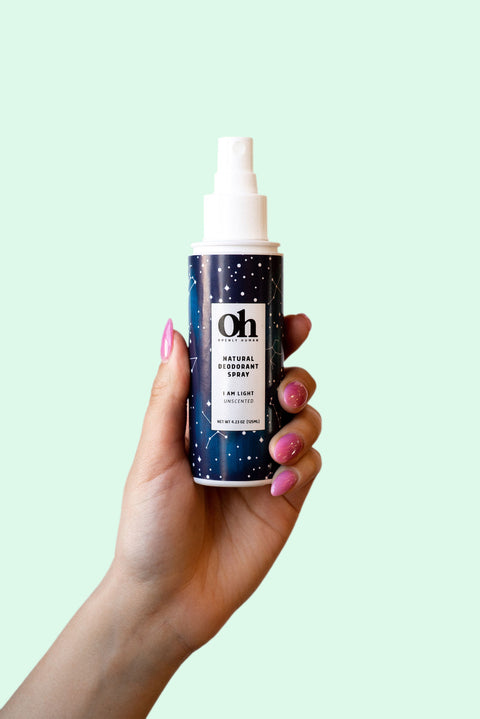 I Am Light
4.23oz (125ml) in a bottle made from sugarcane
$15
---
---
Ingredients
Usage
Why Oh
Zinc Ricinoleate
Naturally derived from a major fatty acid found in castor seed oil, this powerful deodorizer traps and absorbs odor molecules.
Organic Saccharomyces Ferment
This healthy yeast enzyme eliminates ammonia (the bad, smelly stuff in sweat) to make odorless amino acids without disrupting your body chemistry. It has also been known to help hydrate skin and promote collagen synthesis.
MSM (methylsulfonylmethane)
MSM is an organic sulfur compound that's naturally derived during the earth's rain cycle. This miracle supplement has been known to detox the body and improve skin health and complexion.
Other Ingredients: Ethanol, Water, Sodium Cocyl Glutamate, Capryloyl, Glycerin Sebacic Acid Coplymer, Tetrasodium Glutamate Diacetate, Propanediol, Witch Hazel
Spray on your underarms, private areas, shoes, pets, yoga mats, pillows, or any other funky areas. This versatile deodorant spray is safe for all skin types!
You buy a bottle, we plant a tree
We've committed to planting 10,000 trees this year.
Happiness guarantee
If you aren't happy with Oh, send it back for free! Your satisfaction is a top priority.
Free Shipping & Returns
No hurdles or hidden fees with a smooth purchase experience.
Friendly Customer Service
We have friendly humans ready to listen to any question you may have.
High vibe with peace of mind
Natural, eco-friendly, and safe
Openly Human

Native

Schmidt's

Axe

Dove

Versatile Spray

Use anywhere! Clean, hygienic spray everytime

Naturally Derived

Mindfully sourced organic ferment, minerals, and botanicals

Eco-friendly Packaging

Bottles made from sugarcane, mushroom insert, recylable paper tube shipper.

100% Stain Free

No streaks or yellowing

2x More Product

About double the volume of most sticks

Toxin Free

No aluminum, parabens, phtalates, synthetic fragrance, propylene glycol

Essential oil aromas

Expert crafted blends
Committed to planting 10,000 trees world-wide
You buy an item, we plant a tree
Wanted to love it!
I purchased the I am awake and it smells devine, but I am very sensitive and it burned my underarm area and irritated my eyes.
I won't be able to use it-advise caution if you have sensitivities.
Hi Deb! 'I Am Awake' does have peppermint, which some people have a sensitivity. Try the 'I Am Love' or 'I Am Sacred'. We can ship you another bottle if you email support@openlyhuman.com.
Try spraying 6-12in from your underarms in 1-2 even sprays. Then, rub your arms against your body to dry quicker.
The sprays can also be used for your car, room, gym bag, or anything you need to freshen up if you are too sensitive for your underarms.
Thanks!